I am always interested in what others are reading. I am always looking for a new book. But I thought I would share the books that I am currently reading. I am trying to limit myself to the number of books I read at one time, because I have a bad habit of starting several books and then forgetting to finish many of them.
When Helping Hurts (How to Alleviate Poverty Without Hurting the Poor and Yourself)
by Steve Corbett & Brian Fikkert
The two reasons the authors give for writing this book are thought provoking:
1. "North American Christians are simply not doing enough. We are the richest people to walk the face of the earth. Yet, most of us live as though there is nothing terribly wrong in the world."
2. "Many observers...believe that when North American Christians do attempt to alleviate poverty, the methods used often do considerable more harm to both the materially and materially non-poor. Our concern is not just that these methods are wasting human, spiritual, financial, and organizational resources but that these methods are actually exacerbating the very problems they are trying to solve." pg 28
Is God Really in control (Trusting God in a World of Hurt)
by Jerry Bridges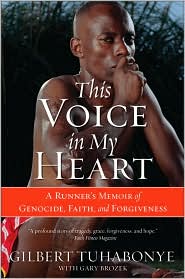 This voice in My Heart (A Runner's Memoir of Genocide, Faith and Forgiveness)
by Gilbert Tuhbonye
This is the story of a Brundi Tutsi that survived brutal attacks in his home country when a Hutu mob invaded his high school. He was the only Tutsi survivor of that attack, but suffered severe injuries. He went on to become a world-class athlete.